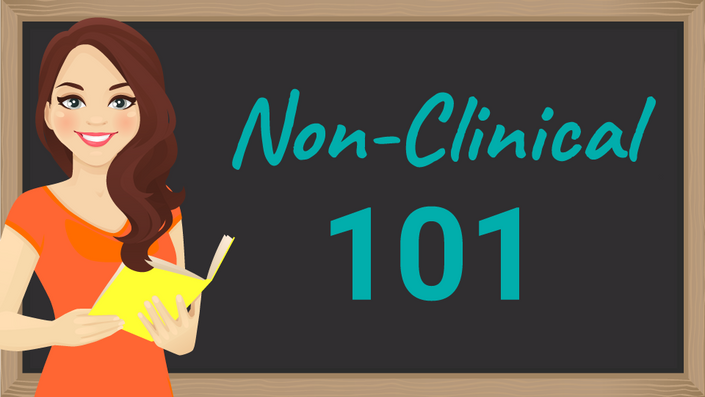 Non-Clinical 101
The Complete Guide to Launching Your Non-Clinical Career
It's normal to want a change from direct patient care.
But making the leap has its challenges, including...

🤷 Worrying that you have no marketable skills––but not knowing how to gain them.
😬 Feeling so overwhelmed that you're paralyzed with inaction.
😫 Struggling to find non-clinical jobs that don't result in a huge pay cut.
😑 Hitting dead ends when looking for non-clinical jobs in the first place.
😫 Being unable to start because you have no freaking idea what you want to do!
😰 Deciding you're too old––or too young––to make a move out of patient care.
💸 Spending a fortune on career coaches and resume writers, and still not having any clue where to start.
😔 Giving up and resigning yourself to a life of productivity, no pee breaks, and zero growth opportunity.
📑 Sending out dozens of resumes and hearing NOTHING.
🤦‍♀️ Determining that no raise is better than no job.
😓 Skipping lunch to catch up on paperwork and being too tired after unpaid overtime days to research non-clinical careers.

I worked with hiring managers, career coaches, and dozens of non-clinical PT, OT, and SLP professionals to crack the code of successfully going non-clinical—and I put it all into one comprehensive course.
I created a blueprint to save you endless hours of research, and hundreds of dollars on pricey career coaches and resume writers.
👊 You CAN land a non-clinical job without paying $700 to have a professional resume written.
👊 You CAN make confident, educated decisions about your non-clinical career path.
👊 You CAN create heartfelt and compelling cover letters that land interviews...and you CAN rock those interviews with confidence and poise.
👊 You CAN network your way into a high-level non-clinical role.
👊 You CAN use your existing experience and skills to make a transition into the non-clinical world.
👊 You CAN work remotely with a flexible schedule.
👊 You CAN earn a high salary and find performance-based roles.
👊 You CAN have recruiters calling YOU based on your LinkedIn profile.
👊 You CAN make a plan to continue growing your career...without leaving your clinical identity behind.

"Within a month of taking NC101 and implementing the lessons, I landed my first non-clinical job and I couldn't be happier. This course gave me the resources and knowledge to market myself in a way that makes sense for the business world, maximize my chances for getting an interview, and nailing it. 100% worth every penny. If you want to progress and break through the glass ceilings of clinical care, this course is the way to do it."
- Mike F, Clinical Sales Account Executive

Non-Clinical 101 is designed specifically for rehabilitation professionals:
PTs | OTs | SLPs | PTAs | OTAs | SLPAs
---
I've spent hundreds of hours to create the most comprehensive, in-depth, easy-to-follow guide ever created to help you go from burned-out clinician to non-clinical rockstar!
🙌 You CAN have the non-clinical career of your dreams. 🙌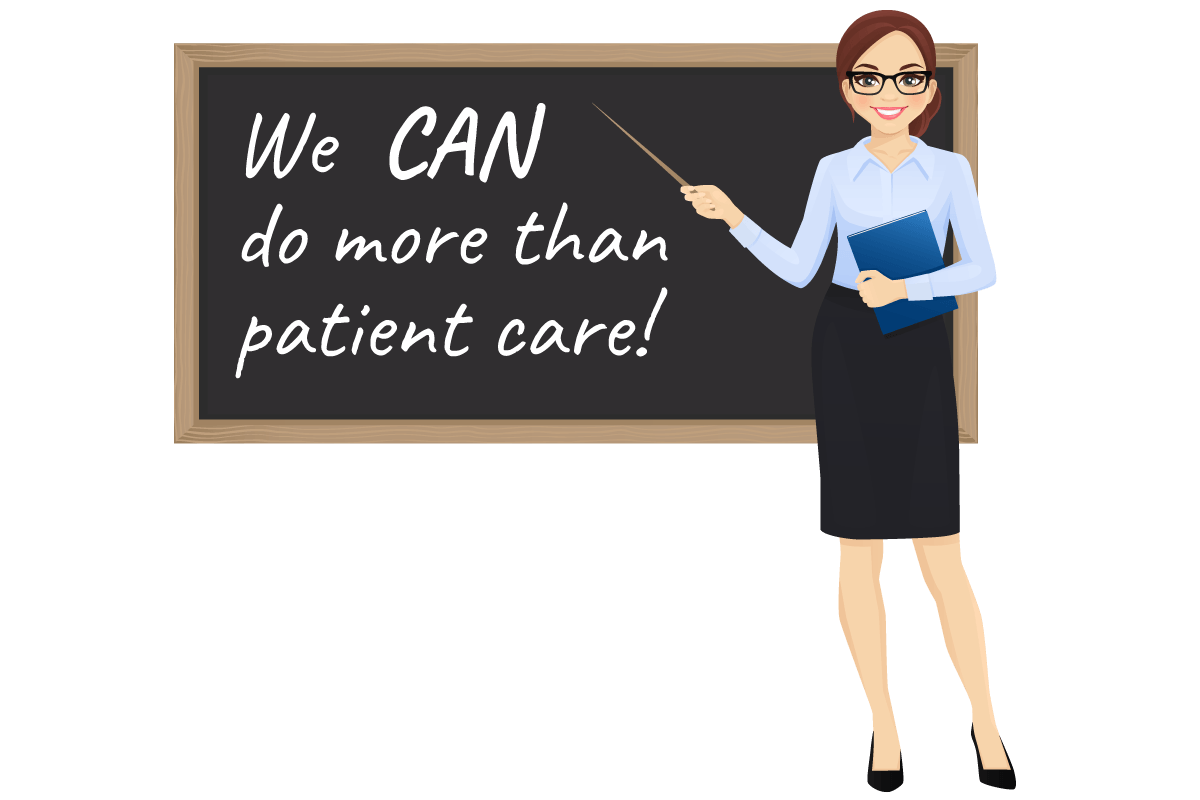 "I LOVED the thoroughness of each topic and the descriptions of the various non-clinical positions. Honestly, I got out of it EXACTLY what I wanted, I have a new, non-clinical, remote position and I am SO happy."
- Mary F, Telephonic Skilled Inpatient Care Coordinator
What You'll Get:
A fun, 4-step course

that will take you from confused and overwhelmed to confident and prepared.

Over 7 hours of comprehensive instructional video

covering non-clinical career paths, networking, branding, resumes and cover letters, finding jobs, interviewing, negotiating, self-assessment, and much more. ($500+ value! A career coach and a resume reviewer would cost far more than this course.)
Custom career advice tailored specifically to rehab professionals.

Lifetime access

to the course and all materials, including periodic updates.

A full example resume makeover

––you'll learn how to take your resume from clinical to non-clinical, and make a great impression on recruiters and hiring managers alike.

Personalized self assessments to help you unearth your skills and talents.

Cheat sheets and downloads with tips on transferable skills, non-clinical jargon, interviewing, and more. ($49 value!)

Course recommendations for each career path, when applicable.

Lifetime membership in the Non-Clinical 101 Alumni Facebook group, where you can network, find support, and get first dibs on the hottest non-clinical jobs.

Access to special discounts and services.

BONUS: Bonus lesson on consulting, which covers setting prices, attracting clients, real advice from successful consultants, and more. ($99 value!)
BONUS: A 56-page lookbook covering everything you want to know about the most common non-clinical career paths! ($99 value!)
BONUS: Editable sample resumes and cover letters for every single career path we explore. ($199 value!)
BONUS: Access to ALL non-clinical career starter packs, including ones I create in the future. ($145+ value!)

BONUS:

A 1-hour interview with career counselor Melissa Totah, MA, LPC-S

, where she shares expert tips to help you succeed!

BONUS (New for 2020!):

A 30-minute interview with Allan Manuel, PT,

packed with tips about sales careers!
"I am thrilled with the role I landed. The pay is actually better than what I was making in outpatient private practice! I used the sections on resume/cover letter writing, interviewing, negotiating in real time as I went through the process and went back several times to re-listen. I know that I would not have had the courage to apply to a position like this without this course. "
- Andrea M., ACCE - PTA Program Director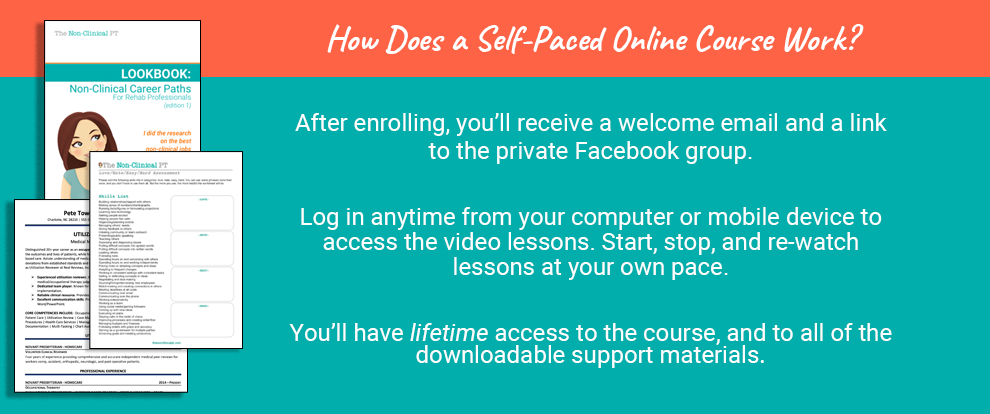 "The course is thorough. If someone applies this information, they will have no trouble getting a non-clinical position."
- Bill D., Denials Coordinator
Your Instructor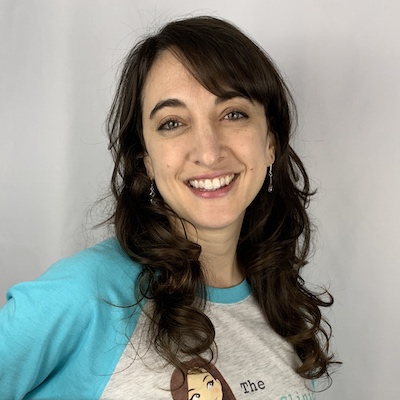 Hi! I'm a freelance writer, former rehab liaison, and the founder of The Non-Clinical PT!
I developed Non-Clinical 101 because I was tired of seeing PT, OT, and SLP professionals struggle to transition out of patient care. After working in the non-clinical space for nearly five years, I created a 4-step course that guides you through the process of launching your non-clinical career! Learn more about me.
"I just landed a job as a rehab liaison for a huge hospital with a 50-60 bed rehab unit! I cannot tell you how helpful Non-Clinical 101 was to me, and I cannot thank you enough!"
- Rachel S., Rehab Liaison
Course Curriculum
Welcome to Non-Clinical 101!
Available in days
days after you enroll
Step 1: Learning What Makes You Tick
Available in days
days after you enroll
Step 2: Discovering Non-Clinical Careers
Available in days
days after you enroll
"Non-Clinical 101 has expanded what I thought was possible, and given me new ideas for where my career could go. It has given me hope that I can find a career I really enjoy with the experience and education I currently have."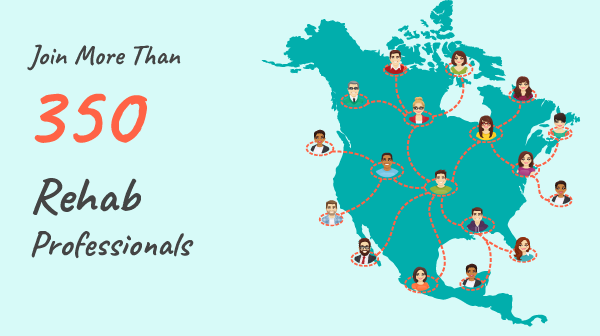 "Your course helped confirm for me that coaching is where I wanted to go. By learning more about some of the other options out there, I was able to eliminate areas of non-clinical work, which in the end gave me the clarity I needed. The sections of the course that focused on resume writing and how to take clinical skills and experience and apply them to a different setting were very helpful in giving me that clarity. "
- Aimee R., Health Coach
Frequently Asked Questions
When does the course start and finish?
The course starts now and never ends! It is a completely self-paced online course, meaning you decide when you start and when you finish!
How long do I have access to Non-Clinical 101?
You've got lifetime access! After enrolling, you have unlimited access to this course for as long as you like-across any and all devices you own. Plus, you'll have lifetime access to the private Non-Clinical 101 Alumni Facebook group :)
What if I am unhappy with the course?
I am confident this course will give you everything you need to get started in your new career. That said, I would never want you to be unhappy with your investment! If you are dissatisfied with your purchase, please provide a link to a job you applied for, along with a completed resume and cover letter you created for that job using my methods. If you do this within 30 days of your purchase, I will provide you with a full refund.
I don't have a clinical license. Can I still take this course?
Absolutely! I made a point to include options for all sorts of professionals, including those who let their licenses lapse or never obtained them in the first place. I make a point to note which paths are appropriate for unlicensed therapy professionals when we discuss non-clinical career paths.
I'm an assistant. Will there be enough in this course to make it worth my time?
Yes! I included plenty of non-clinical career paths that are open to assistants, and you will also find tons of additional content about networking, creating resumes and cover letters, interviewing, negotiating, and more that will make this course very much worth your time!
I was trained outside the United States. Will this course help me?
You will definitely find great information in here, regardless of where you were educated. I made sure to include career paths that work for pretty much everyone!
Will this course ever be updated?
Yep! In fact, I plan to update the course every three to six months with new content. I'll be adding new career paths, as well as content specially requested from those who are enrolled in the course :)
Are you qualified to teach me?
I'm so glad you asked! In addition to holding my DPT and an active PT license, I have created a pretty great non-clinical career for myself. In 2015, I successfully transitioned out of patient care and into a hybrid clinical liaison + writing career (writing for clients like Breg, Janssen, and MD Revolution). Between 2015 and 2017, I also co-created NewGradPhysicalTherapy and helped launch both NewGradOccupationalTherapy and NewGradSpeechTherapy. Today, I am a freelance writer (working with WebPT and OT Potential) and enjoy running The Non-Clinical PT. Since launching the site, I've coached dozens of people just like you and helped many of them successfully transition into non-clinical roles. Achievements aside, I am the daughter of two educators (one teacher, and one professor), both of whom weighed in to ensure I developed a curriculum that is simple to follow and FUN! I also worked directly with multiple career counselors and coaches, as well as resume experts, to ensure all of my materials reflect the latest practices in the job-seeker world. On top of all that, I have interviewed countless non-clinical therapy professionals to ensure I provide the most accurate and helpful information to help you along your journey. :)
How long is the course?
Technically, you can finish the course in as little as seven hours if you're passively watching the videos, but I don't recommend doing that. I have included tons of self assessments and personality tests that will be most helpful if you take the time to complete them as you go through the course. Plus, there are lots of helpful worksheets, checklists, and downloads, including a 56-page lookbook that delves into every single career path we cover in great depth. I recommend setting aside several days to fully consume the material, but I also recommend revisiting the content frequently as you apply for jobs!
Am I guaranteed to land a job within a certain amount of time after I take this course?
Unfortunately, I cannot guarantee that you will land a job within a certain time frame after taking this course, since there are all sorts of factors that play into how and when you obtain a job (including how many jobs you apply for, whether you follow the instructions I provide in this course, whether you take the steps to obtain the experience you need to land those jobs (if you don't have it), and how quickly you get moving to launch your new career). That said, I am confident that the vast majority of people who complete Non-Clinical 101 and apply the tactics will successfully land fulfilling non-clinical jobs.
What, exactly, is included in this course?
You will receive lifetime access to 7+ hours of video training delivered in a simple 4-step format, as well as tons of cheat sheets and checklists to keep you motivated, a battery of personalized assessments to help you better understand which roles to pursue, in-depth training for creating resumes and cover letters, advice on nailing your interviews, tips on negotiating a great salary, and ways to help improve our professions by creating paths for others to succeed. Plus, as a bonus, you'll get a 56-page lookbook covering each non-clinical career path in great detail, along with real-life job descriptions and a sample resume and cover letter for each path. On top of all of that, you will also receive lifetime access to my private Non-Clinical 101 Alumni Facebook group (well, I can guarantee lifetime access at least as long as Facebook is around, which should be a long time!).
I'm an OT or SLP. Is this course for me?
Yep! PTs and OTs (and assistants) will find the content matches up most closely to their experience, but SLPs can certainly find TONS of great content and job ideas. And I'll always be adding to the course in the future, including more SLP-specific career paths!
Will I learn about telehealth or entrepreneurship in this course?
Yes! I do go over the basics of both telehealth and entrepreneurship so you can discover whether they're good options for you, and I point you to additional resources (many with special discounts just for Non-Clinical 101 students) if you decide to pursue those paths.
Does one-on-one coaching come with this course?
Non-Clinical 101 is very comprehensive; it covers the equivalent of many hours of one-on-one coaching sessions (which are often hundreds of dollars an hour!), for a much lower cost. Non-Clinical 101 was built based on my experience coaching dozens of clients, and seeing common threads pop up across the sessions. It does not, however, include one-on-one coaching. That said, I will be active at least twice a week in the Non-Clinical 101 Alumni Facebook group to help answer questions, I will constantly be updating the course with new information based on alumni feedback (and all alumni get lifetime access!). In the near future, I plan to offer one-on-one coaching and group coaching options exclusively to course alumni.
"I think it's really strategic and helpful to have the life priorities assessment and love/hate/easy/hard worksheet in the beginning. It really helped me focus in on the career paths most suitable to me. I got to focus on what my priorities are and what comes naturally to me. I love how the course lays out what type of jobs/roles can match my personality best, and I find that incredibly helpful. "
- Lisa R.