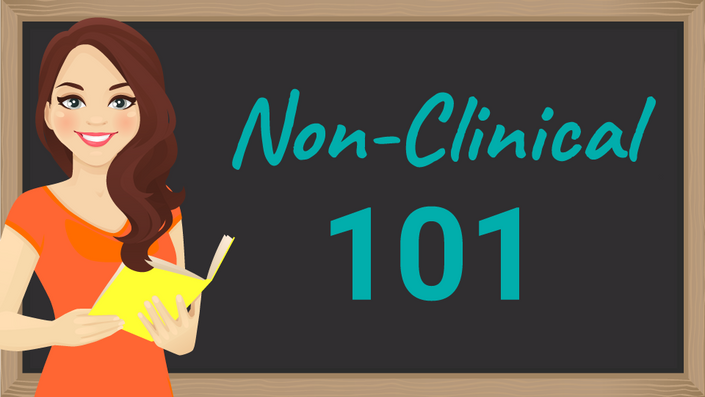 Non-Clinical 101
The Complete Guide to Launching Your Non-Clinical Career
Feeling burned out is normal. Wanting a change is OK.
But going non-clinical has its challenges....

🤷 Worrying that you have no marketable skills.
😬 Feeling overwhelmed and paralyzed with inaction.
😫 Struggling to find jobs that don't result in a pay cut.
😑 Hitting dead ends looking for non-clinical jobs.
😫 Failing to start since you have no idea what you want to do.
😰 Deciding you're too old––or too young––to make the move.
💸 Spending tons on coaches and resume writers with no results.
📑 Sending out dozens of resumes and hearing NOTHING.
🤦‍♀️ Determining that no raise is better than no job.
😓 Skipping lunch and staying late to catch up on paperwork.
🥱 Being too tired at night to research careers or take classes.
😔 Giving up altogether. Resigning yourself to a life of unrealistic productivity, no pee breaks, no raises, no growth, and no respect.


I worked with hiring managers, career coaches, and non-clinical PT/OT/SLP professionals to crack the code of going non-clinical—and I put it all into one comprehensive course.
Non-Clinical 101 is a blueprint that saves you endless hours of research (and hundreds of dollars on pricey career coaches and resume writers).
👊 You CAN land land a job without paying $$$ to resume writers.
👊 You CAN make confident, educated decisions about your future.
👊 You CAN ace non-clinical interviews with confidence and poise.
👊 You CAN network your way into a high-level non-clinical role.
👊 You CAN use your existing experience and skills to go non-clinical.
👊 You CAN work remotely (from home) with a flexible schedule.
👊 You CAN earn a high salary and find performance-based roles.
👊 You CAN have recruiters calling YOU.
👊 You CAN make a plan to continue growing your career...without leaving your clinical identity behind.
"Within a month of taking Non-Clinical 101 and implementing the lessons, I landed my first non-clinical job and I couldn't be happier. This course gave me the resources and knowledge to market myself in a way that makes sense for the business world, maximize my chances for getting an interview, and nailing it. 100% worth every penny. If you want to progress and break through the glass ceilings of clinical care, this course is the way to do it."
- Mike F, Clinical Sales Account Executive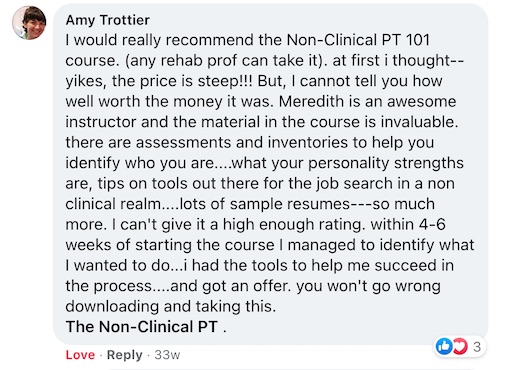 Non-Clinical 101 is designed specifically for rehabilitation professionals:
PTs | OTs | SLPs | PTAs | OTAs | SLPAs
---
I've spent hundreds of hours to create the most comprehensive, in-depth, easy-to-follow guide ever created to help you go from burned-out clinician to non-clinical rockstar!
🙌 You CAN have the non-clinical career of your dreams. 🙌
"Non-Clinical 101 is extremely thorough and well structured. There is valuable information and development for any person, no matter where they want their career to take them. Meredith herself is an encouraging mentor. She referred me to my current role, which is a perfect fit in every way. I was able to highlight my passions, skills, and prior travel experience to apply for my current position, which is remote and innovative in nature. Meredith reassured me that my aspirations were achievable and helped outline a way to reach them. I can't recommend her course and expertise enough!"
- EP, Clinical Simulation Managing Editor
"I feel like a Non-Clinical 101 poster child haha. I was applying to a bunch of jobs and not getting anywhere. I took your course and did everything you said, and landed a non-clinical job I love!"
- Emma B, Account Executive
"Anthem called me last night and offered me the job. It is a remote position with benefits, paid holidays, and PTO. Thanks for Non-Clinical 101 and your help. I feel good about the growth potential within the company, and I am excited to start a new chapter."
- JL, Physical Therapy Reviewer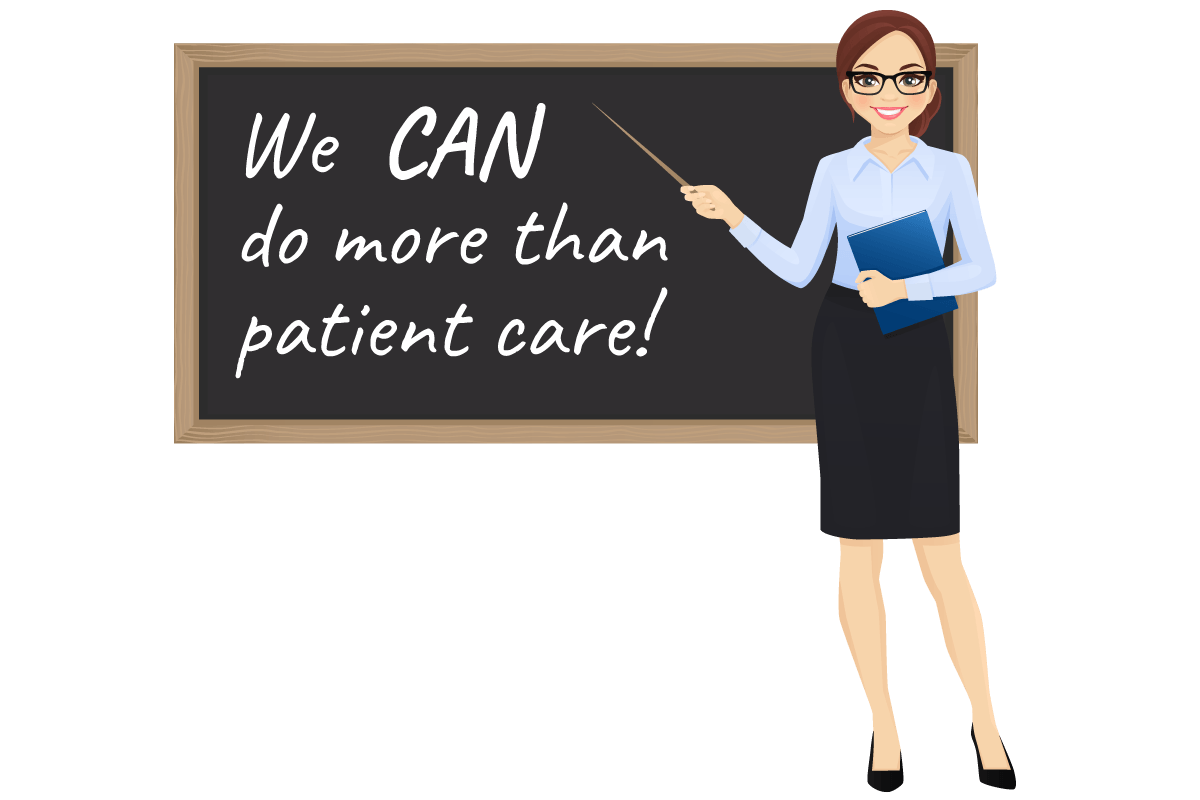 "I LOVED the thoroughness of each topic and the descriptions of the various non-clinical positions. Honestly, I got out of it EXACTLY what I wanted, I have a new, non-clinical, remote position and I am SO happy."
- Mary F, Telephonic Skilled Inpatient Care Coordinator
"I can't believe it. I finally got a non-clinical job!!!!!!!! I submitted my letter of resignation last night! Come mid-July, I will be a Care Transitions Coordinator. It has been such a long road, but I think this job will be a great fit for me. I really think the Non-Clinical 101 course was so important in my transition. Thank you again for making this all feel possible!!!!"

- Jill A, Care Transitions Coordinator
Some of the many titles that Non-Clinical 101 graduates now hold:
Academic Coordinator of Clinical Education | Account Manager | Adjunct Faculty | Adjunct Professor | Assistant Director of Clinical Education | Assistant Director of Development in Faculty Relations | Assistant Director of Sales | Assistant Professor | Associate Head, Clinical Education | Associate Territory Manager | Billing Liaison | Business Development Liaison | Care Specialist | Care Transitions Coordinator | Case Investigator | Case Manager | Certified Professional Coder | Client Outcomes Manager | Client Success Associate | Client Success Manager | Clinic Director | Clinic Manager | Clinic Supervisor | Clinical Appeals Specialist | Clinical Case Manager | Clinical Consultant | Clinical Coordinator | Clinical Director | Clinical EHR Educator | Clinical Educator | Clinical Home Care Coordinator | Clinical Instructor | Clinical Liaison | Clinical Manager | Clinical Operations Manager | Clinical Practice Liaison | Clinical Product Manager | Clinical Program Designer | Clinical Reviewer | Clinical Research Associate | Clinical Site Manager | Clinical Support Physical Therapist | Clinical Value Analysis Manager | Community Engagement Coordinator | Contact Tracer | Cross Market Care Coordinator | Customer Relationship Manager | Customer Success Manager | Customer Success Representative | Denials Coordinator | Director of Client Services | Director of Clinical Education | Director of Customer Success | Director of Rehabilitation | Field Clinical Manager | Financial Representative | Freelancer | Health Coach | Health Content Writer | Healthcare Copywriter & Content Marketer | Home Modification OT | Implementation Consultant | Implementation Specialist | Implicit Bias Program Creator/Trainer | Initial Clinical Reviewer | Inpatient Therapy Manager | Lead Client Success Manager | Lead Learning and Simulation Developer | Licensed Life Insurance Agent | Licensed Real Estate Agent | MDS Coordinator | Manager | Manager, Pre-Service Operations | Managing Partner and Founder | Medical Coder | Medical Laboratory Scientist | Medical Science Liaison | Operations Assistant | Orthopedic Clinical Consultant | Out of Network Manager | Outcomes Manager | PPS Coordinator | Patient Advocacy Specialist | Patient Trainer | Performance Improvement Specialist | Post-Acute Care Coordinator | Pre-Service Coordinator | Principal UX Researcher | Professor | Program Coordinator | Program Manager | Programming Specialist | Project Coordinator | Project Manager | Quality Assessment and Performance Improvement Manager | Quality Review Specialist | Regional Director of Operations | Rehab Director/Coordinator | Rehab Manager | Research Manager and Product Liaison | Research Physical Therapist | Skilled Inpatient Care Coordinator (SICC) | Sales Consultant | Sales Representative | Sales Department Representative | Senior Clinical Care Coordinator | Specialist | Success Manager | Supervisor, Patient Training | Supplemental Epic Credentialed Trainer | Territory Executive | Territory Manager | Therapy Patient Account Manager | Therapy Reviewer | Trailblazer | User Experience Researcher | Utilization Manager | Utilization Review Specialist | UX Research Associate | VP of Client Services | Vice President of Innovation | Virtual Care Coordinator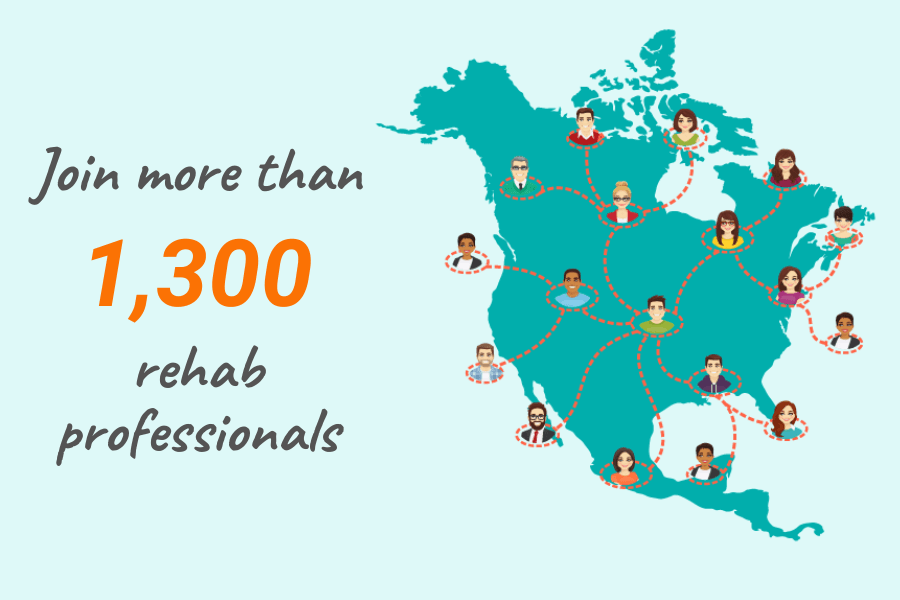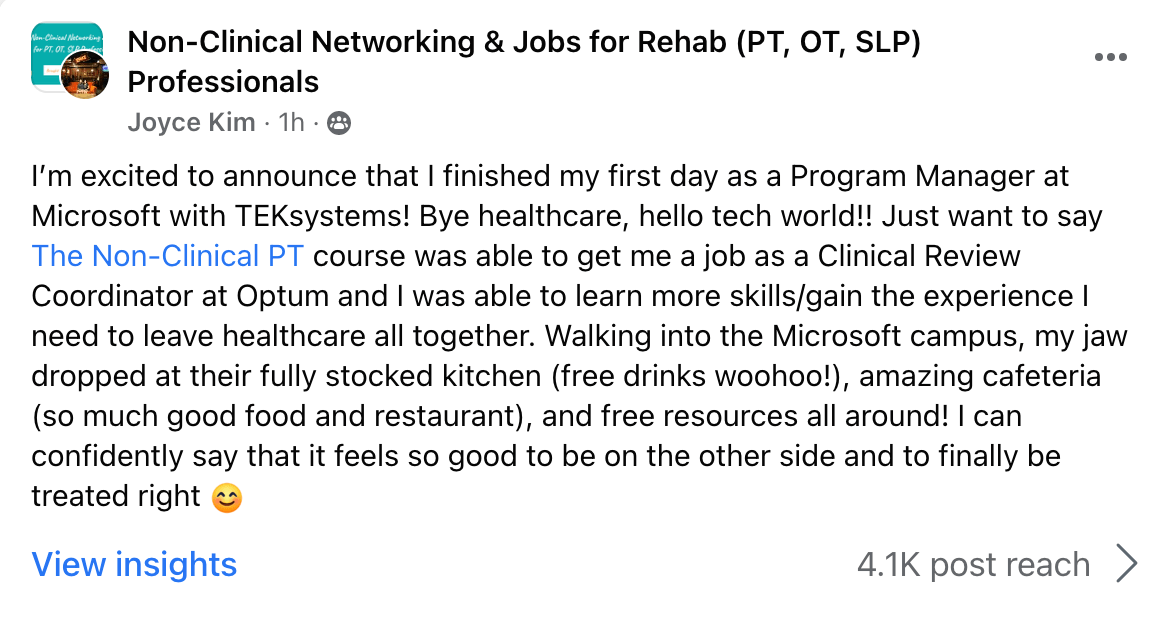 What You'll Get:
EASE: A simple 4-step setup keeps you organized and confident
SELF-PACED: 18+ hours of comprehensive instructional videos, plus 6+ hours of bonus content!
DEPTH: A deep dive into the 25 most popular non-clinical career paths

CUSTOMIZATION:

Content tailored specifically to rehab professionals
VALUE: Includes ALL Non-Clinical Crash Courses, with some exclusive to NC101 ($2,225 value!)
LIFETIME ACCESS: You can access the course and all materials anytime, including updates, forever!
WALKTHROUGHS: Impress recruiters with LinkedIn and resume prowess

SIMPLICITY:

Editable ATS-compliant resumes, cover letter, thank-you note templates

INSIGHT:

Self assessments reveal your skills, passions, and talents

STRUCTURE:

Cheat sheets and downloads keep you on track

GUIDANCE:

Course recommendations for building more skills

EXCLUSIVE ACCESS:

Private job seekers' and networking groups

CONVENIENCE:

A master list of companies hiring for non-clinical roles
You'll also get these incredible BONUSES:
BONUS: 175-page lookbook compiling information from all 25 non-clinical career paths into one convenient reference ($197 value!)
BONUS: Exclusive interviews with successful non-clinical professionals!
BONUS: Consulting lesson to help you set prices and discover how to land your ideal clients ($89 value!)
Need more convincing? Check out what our happy students are saying about Non-Clinical 101!
"Non-Clinical 101 was so awesome! I took it very seriously and spent time doing the self-reflections and personality tests, which were so revealing. I really, really loved the love/hate/easy/hard task. It made me think about things in a new light besides like/dislike. I also liked doing the visualizations because it really got me in touch with what I want out of a career and what is important to me."

- Emily K, Client Success Manager

"I was just offered a job today...I took Non-Clinical 101, which was affordable and informative. It helped me tailor my resume and I got the job. I'm excited!"
- Jessica B, Inpatient Care Coordinator
"I am thrilled with the role I landed. The pay is actually better than what I was making in outpatient private practice! I used the sections on resume/cover letter writing, interviewing, negotiating in real time as I went through the process and went back several times to re-listen. I know that I would not have had the courage to apply to a position like this without this course."
- Andrea M - ACCE, PTA Program Director
"I had gotten pretty down on myself for not sticking with PT. I can't thank you enough for giving me the confidence and the message I needed at just the right time to move forward. I can say with a good amount of certainty that I would not be in this position without your help. I feel lucky to have the option for remote work now."
- Ryan O, Program Manager
"The course is thorough. If someone applies this information, they will have no trouble getting a non-clinical position."
- Bill D, Utilization Reviewer
Your Instructor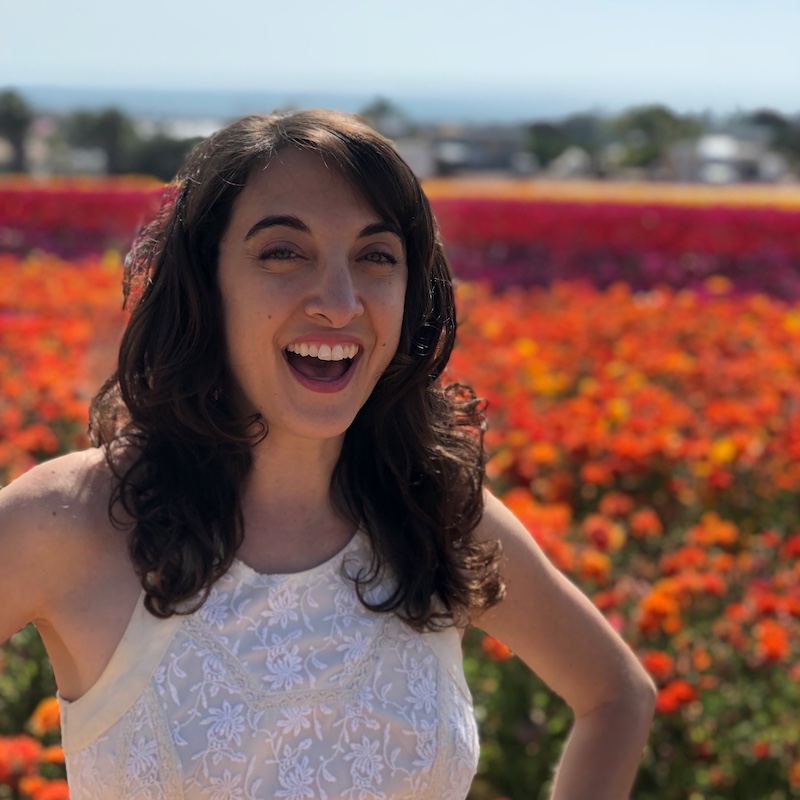 Hi! I'm an entrepreneur, career strategist, freelance writer/editor, former clinical rehab liaison, and the creator of The Non-Clinical PT!
I developed Non-Clinical 101 because I was tired of seeing PT, OT, and SLP professionals struggle to transition out of patient care. After working in the non-clinical space for nearly five years, I created a 4-step course that guides you through the process of launching your non-clinical career! Learn more about me.
"I just landed a job as a rehab liaison for a huge hospital with a 50-60 bed rehab unit! I cannot tell you how helpful Non-Clinical 101 was to me, and I cannot thank you enough!"
- Rachel S, Rehab Liaison
"Non-Clinical 101 has expanded what I thought was possible, and given me new ideas for where my career could go. I applied to one of your leads and got the job! I wanted to thank you for posting and doing what you do because it has given me hope about my career!"
"Thank you, Meredith, and the entire Non-Clinical 101 alumni group. I accepted a non-clinical position today for Outcomes Manager (PPS Coordinator)!!"
- Trisha D, Outcomes Manager
"I am so grateful for your wonderful NC101 course. I felt confident in applying for telehealth jobs and going through the interview process. I just accepted a full-time position and am looking forward to this new horizon."
- Carly C, Telehealth PT
"Your course helped confirm for me that coaching is where I wanted to go. By learning more about some of the other options out there, I was able to eliminate areas of non-clinical work, which in the end gave me the clarity I needed. The sections of the course that focused on resume writing and how to take clinical skills and experience and apply them to a different setting were very helpful in giving me that clarity."
- Aimee R, Health Coach
"People sometimes forget that understanding yourself and your situation is so important when you change careers. You need to network and be strategic about making this transition. I loved being able to pull from different sections and resources as the need arose. Since taking Non-Clinical 101, I have worked as an adjunct professor, entrepreneur, and full-time care coordinator. It's a lot, but the course helped me understand the type of work that best matches my variety seeking personality!"
- DL, Adjunct PTA Instructor, Skilled Inpatient Care Coordinator
Frequently Asked Questions
When does the course start and finish?
This is a completely self-paced online course, meaning you decide when you start and when you finish!
How long do I have access to Non-Clinical 101?
You've got lifetime access to the course, as well as our exclusive LinkedIn job seekers' group and Facebook alumni group!
What if I am unhappy with the course?
I am confident this course will give you everything you need to get started in your new career. That said, I would never want you to be unhappy with your investment! If you are dissatisfied with your purchase, please provide a link to a job you applied for, along with a completed resume and cover letter you created for that job using my methods. If you do this within 30 days of your purchase, I will provide you with a full refund.
I don't have a clinical license. Can I still take this course?
Absolutely! I include options for all rehab professionals, including those who let their licenses lapse or never got them in the first place. I note which paths are appropriate for you when we discuss non-clinical career paths.
I'm an assistant. Will there be enough in this course to make it worth my time?
Yes! I included plenty of non-clinical career paths that are open to assistants, and you will also find tons of additional content about networking, creating resumes and cover letters, interviewing, negotiating, and more that will make this course very much worth your time!
I was trained outside the United States. Will this course help me?
You will definitely find great information in here, regardless of where you were educated. I made sure to include career paths that work for pretty much everyone!
Will this course ever be updated?
This course has been updated several times, and will continue to be updated to reflect changing market trends.
Are you qualified to teach me?
I'm so glad you asked! I am a licensed PT with 11+ years of career coaching, resume writing, and non-clinical experience under my belt. In addition to working in multiple clinical settings, I have worked as a clinical rehab liaison, as well as a full-time clinical content writer and head of content for a healthcare staffing company. I have also built and grown two successful websites (one was acquired by a healthcare company and the other is The Non-Clinical PT). This course was developed with insights from professional educators, career coaches, resume writers, and career counselors to ensure all of my materials reflect the latest practices in the job-seeker world. On top of all that, I have interviewed countless non-clinical therapy professionals to ensure I provide the most accurate and helpful information to help you along your journey. :)
How long is the course?
Technically, you can finish the course in a single weekend if you're passively watching the videos, but I don't recommend doing that. I have included tons of self assessments and personality tests that will be most helpful if you take the time to complete them as you go through the course. Plus, there are lots of helpful worksheets, checklists, and downloads, including a 175-page lookbook that goes in depth into single career path we cover. I recommend completing this course at your own pace across several weeks—but I also gave you lifetime access so you can return and use the content when you apply for promotions and negotiate pay raises!
Am I guaranteed to land a job within a certain amount of time after I take this course?
I cannot guarantee that you will land a job within a certain time frame after taking this course, since there are all sorts of factors that play into how and when you obtain a job (including how many jobs you apply for, whether you follow the instructions I provide in this course, whether you take the steps to obtain the experience you need to land those jobs (if you don't have it), and how quickly you get moving to launch your new career. That said, I am confident that the vast majority of people who complete Non-Clinical 101 and apply the tactics will successfully land fulfilling non-clinical jobs. Non-Clinical 101 alumni flood my inbox with success stories, if that tells you anything :)
What, exactly, is included in this course?
You will receive lifetime access to 18+ hours of video training delivered in a simple 4-step format, as well as tons of cheat sheets and checklists to keep you motivated, a battery of personalized assessments to help you better understand which roles to pursue, in-depth training for creating resumes and cover letters, advice on nailing your interviews, tips on negotiating a great salary, and ways to help improve our professions by creating paths for others to succeed. You'll have a library of ATS-compliant resumes and cover letters that you can adapt to apply for all sorts of roles. You'll learn about 25 non-clinical career paths and how to get there. Plus, as a bonus, you'll get a 175-page lookbook covering each non-clinical career path in great detail. On top of all of that, you will also receive lifetime access to my private job seekers' group and networking group. You will also have access to "ask me anything" group Q&A sessions.
I'm an OT or SLP. Is this course for me?
Yep! I have included content (and resume/cover letter templates) that applies to all three disciplines, including assistants.
Will I learn about telehealth or entrepreneurship in this course?
Yes! We cover entrepreneurship and telehealth in the course, and I provide guidance on additional resources, should you decide to pursue either of those paths. You'll also find a bonus consulting lesson to help you set prices and discover how to land your ideal clients.
Does one-on-one coaching come with this course?
Non-Clinical 101 is very comprehensive; it covers the equivalent of many hours of one-on-one coaching sessions for a much lower cost. Non-Clinical 101 was built based on my experience coaching clients for the past 3+ years, and seeing common threads pop up across the sessions. The course does not include one-on-one coaching. That said, I am active in the alumni groups, where you can ask questions. I also offer periodic "ask me anything" live group Q&A sessions, and I do offer the option to purchase individual coaching sessions as needed (I only offer coaching to Non-Clinical 101 alumni).
What are these 25 non-clinical career paths you keep mentioning?
I'm so glad you asked! They are: Academia/Education, Client Success & Account Management, Administration/Management/Operations, Case Management/Care Coordination, Clinical/Health Informatics, Clinical/Rehab Liaison, Clinical Trainer/Clinical Specialist, Compliance/Quality Assurance, Consulting, Health Coaching & Wellness, Home Modifications & Universal Design, Marketing & Communications, Medical Science Liaison, Occupational Health, Online Entrepreneurship, Project, Product, & Program Management, Public & Population Health, Recruiting & Talent Acquisition, Rehab Technology, Research, Sales & Business Development, Telehealth, User Experience (UX), Utilization Review (UR), and Health & Medical Writing
Does Non-Clinical 101 award CEUs (continuing education units)?
At this time, Non-Clinical 101 is not approved nationwide for CEUs. Getting approval in all 50 states for three disciplines (PT/OT/SLP) is a challenge, but I am currently exploring this path! In the meantime, the course does automatically generate a certificate of approval, which you can use to apply independently to your state approval body for CEU credit. I am always happy to modify these certificates to your needs. In the past, I have added completion hours, a personalized signature, and other content required by states. I am happy to work with you to get you the best chance of approval by your board!
Is Non-Clinical 101 for school-based therapists?
Yes, the Non-Clinical 101 course is designed for any rehab clinician, including school-based therapists. The reason why it works for anyone with any rehab background is that it teaches you how to see the skills you've developed in any setting, and then use different terminology to translate those skills into different roles. It also helps tease out what you enjoy/are good at, and match those preferences to non-clinical roles. You'll also learn how to create a non-clinical resume for any career path you pursue, how to interview, how to get inside the head of the hiring manager/interviewer to know the problem you're trying to solve, how to negotiate a job offer's pay, etc. I designed the course to provide you with everything you need to walk through the process of transitioning, including how to network, use LinkedIn strategically, etc.
"I think it's really strategic and helpful to have the life priorities assessment and love/hate/easy/hard worksheet in the beginning. It really helped me focus in on the career paths most suitable to me. I got to focus on what my priorities are and what comes naturally to me. I love how the course lays out what type of jobs/roles can match my personality best, and I find that incredibly helpful."
- Lisa R


"I just accepted a remote medical coding job! It's really tough to find a coding job as a new hire, and be remote. I'm proud!"
- Jill P, Remote Medical Coder